Sommaire :
La version originale : The Hating Game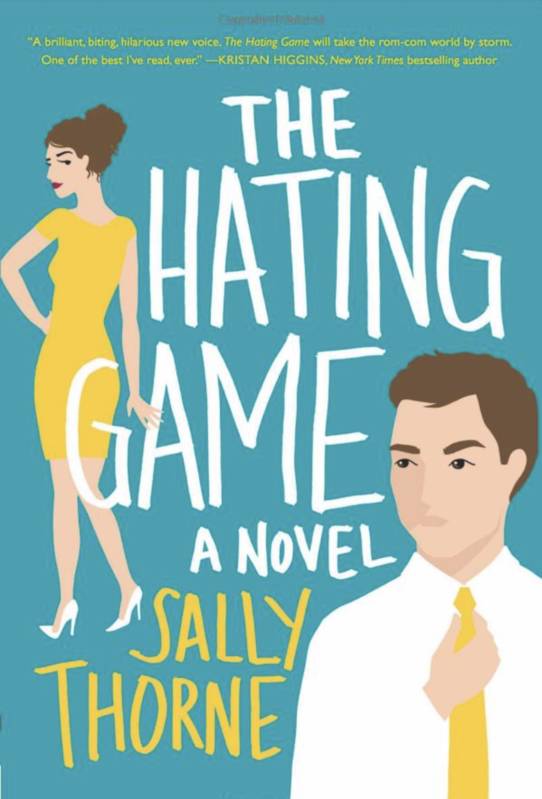 Nemesis (n.)
1) An opponent or rival whom a person cannot best or overcome.
2) A person's undoing
3) Joshua Templeman
Lucy Hutton has always been certain that the nice girl can get the corner office. She's charming and accommodating and prides herself on being loved by everyone at Bexley & Gamin. Everyone except for coldly efficient, impeccably attired, physically intimidating Joshua Templeman. And the feeling is mutual.
Trapped in a shared office together 40 (OK, 50 or 60) hours a week, they've become entrenched in an addictive, ridiculous never-ending game of one-upmanship. There's the Staring Game. The Mirror Game. The HR Game. Lucy can't let Joshua beat her at anything—especially when a huge new promotion goes up for the taking.
If Lucy wins this game, she'll be Joshua's boss. If she loses, she'll resign. So why is she suddenly having steamy dreams about Joshua, and dressing for work like she's got a hot date? After a perfectly innocent elevator ride ends with an earth-shattering kiss, Lucy starts to wonder whether she's got Joshua Templeman all wrong.
Maybe Lucy Hutton doesn't hate Joshua Templeman. And maybe, he doesn't hate her either. Or maybe this is just another game.
La version française : Meilleurs Ennemis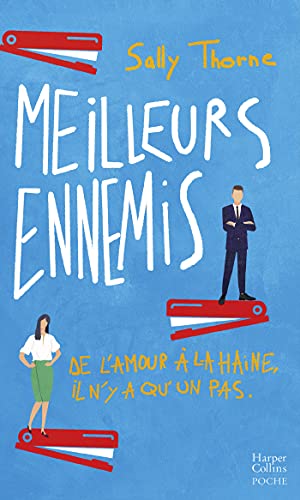 De l'amour à la haine, il n'y a qu'un pas.
Le jour où Lucy rencontre son nouveau collègue, Joshua Templeman, elle n'en revient pas : il est à tomber ! Sauf qu'il ne lui faut pas plus de deux secondes pour découvrir qu'il est aussi froid, cynique, impitoyable… absolument détestable !
Alors, quand leurs chefs respectifs les mettent en concurrence pour une promotion, Lucy est prête à tout pour le battre. Car, si elle gagne, elle sera sa boss. S'il gagne… elle démissionnera. Autant dire qu'elle n'a pas le choix : elle doit gagner.
Mais lorsque, un soir, dans l'ascenseur, ce traître de Josh l'embrasse fougueusement, elle est complètement déstabilisée.
Se serait-elle trompée à son sujet depuis le début ? Ou est-ce une tactique de Josh pour lui faire perdre ses moyens ?
L'adaptation au cinéma de The Hating Game
Les acteurs choisis pour interpréter les rôles principaux
Lucy Hutton : Lucy Hale
Joshua Templeton : Austin Stowell
Le reste du casting
Samon Daunno,
Yasha Jackson,
Sean Cullen,
Sakina Jaffrey,
Corbin Bernsen.
La date de sortie
Le film sortira au cinéma aux Etats-Unis le 10 décembre 2021.
Le synopsis du film
Based on the best-selling book by Sally Thorne, The Hating Game tells the story of ambitious good girl Lucy Hutton (Lucy Hale) pitted against her cold, efficient work nemesis, Joshua Templeton (Austin Stowell), for a huge promotion at publishing company Bexley & Gamin.
Trapped in a shared office, Lucy embarks on a ruthless game of one-upmanship against Josh, a rivalry that turns increasingly complicated by her mounting attraction to him after an innocent elevator ride turns NSFW. Is it love or just another game in their never-ending pursuit for the top job?
Directed by Peter Hutchings
Le synopsis en français
Résolue à réussir sur le plan professionnel sans se compromettre, Lucy se lance dans un jeu impitoyable de surenchère contre Joshua. Leur rivalité est toutefois compliquée par son attirance croissante pour lui.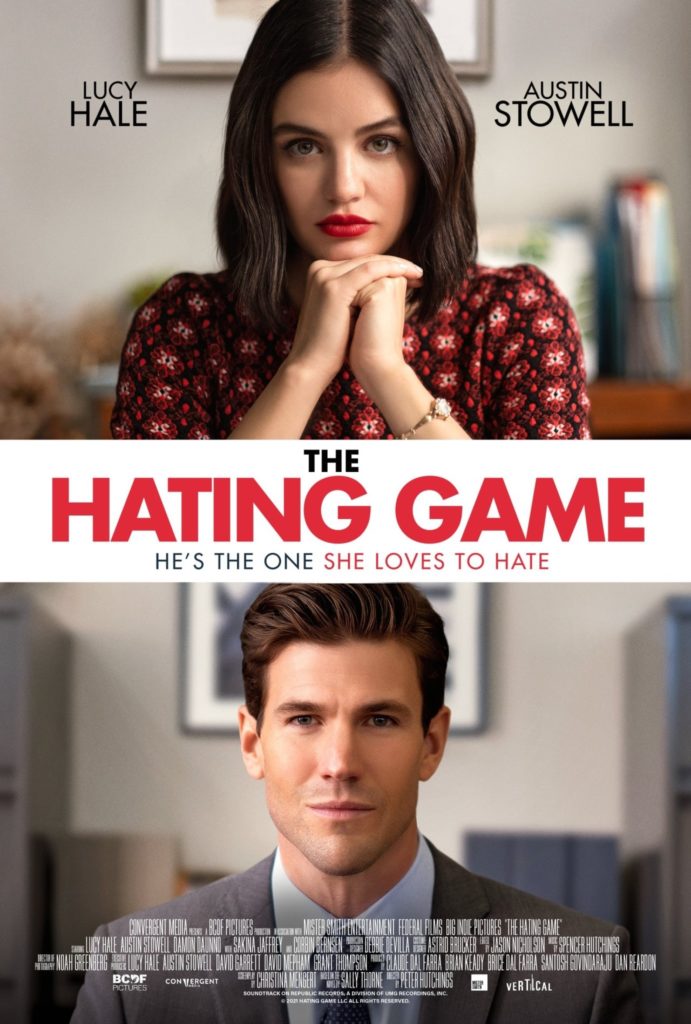 Mon avis
★★★★ 4/5
J'adore les romans love/hate avec d'excellents dialogues et c'est assez rare d'en trouver qui sont bien faits. Souvent la dimension « hate » disparaît beaucoup trop vite. Ce n'est pas le cas dans The Hating Game, l'histoire prend son temps et la relation évolue petit à petit ce qui la rend très crédible.
Ici nous rencontrons Lucy et Joshua, deux collègues en rivalité constante. Cette rivalité va encore monter d'un cran avec la perspective d'une promotion qui reviendra à l'un ou l'autre des deux héros qui sera alors nommé responsable de l'autre. Autant dire que ce n'est pas concevable, ni pour Lucy ni pour Joshua.
On est ici sur un roman « feel good » qui vous met de bonne humeur. C'est drôle, c'est entraînant et c'est vraiment un des livres les mieux écrits que j'ai pu lire avec cette trame.
Ma seule petite déception ? La façon dont se décide la promotion. J'ai trouvé que l'auteur allait un peu à la facilité mais c'est son premier roman donc ça laisse présager de belles choses pour la suite !
---
Depuis que j'ai lu The Hating Game, j'ai tenté de lire 99 Percent Mine, son deuxième roman et je dois dire que cette auteur est malheureusement capable du meilleur comme du pire. J'ai rarement lu (enfin je n'ai pas réussi à le terminer) un bouquin aussi confus. Je ne sais pas si je rédigerais un article dédié mais c'est vraiment étonnant après the Hating Game.
Quoi lire après The Hating Game ?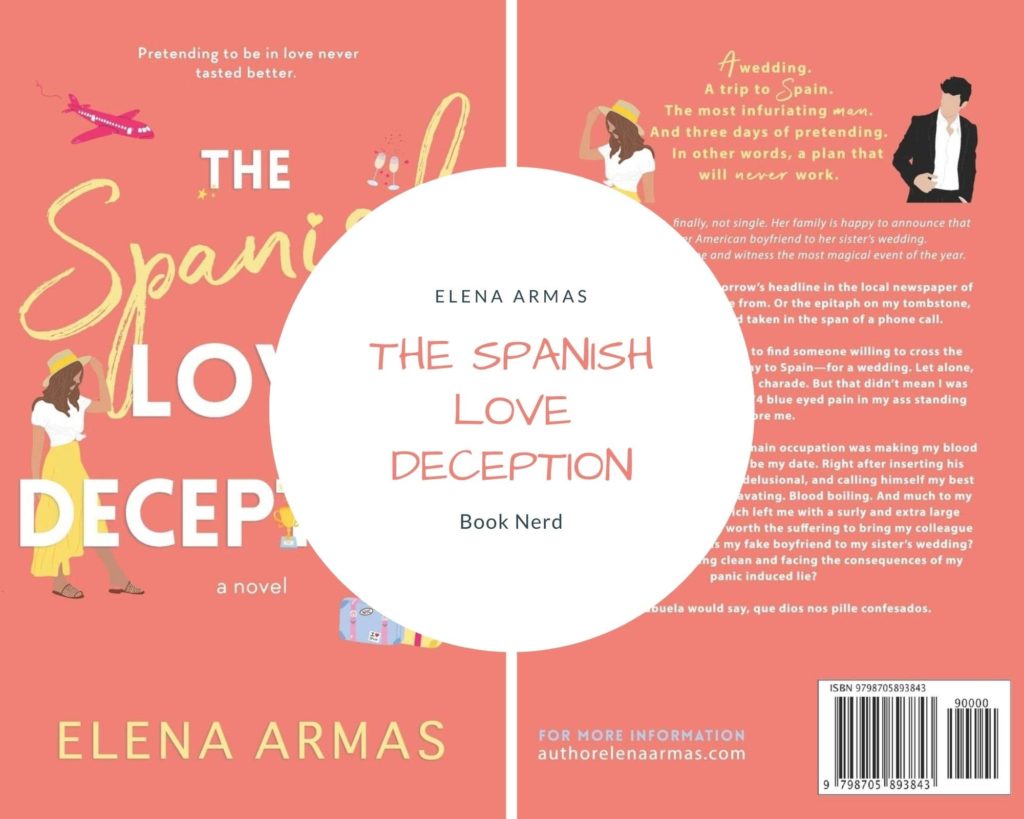 The Spanish Love Deception
Si vous avez aimé The Hating Game, je vous invite à découvrir The Spanish Love Deception.
Où quand deux collègues qui se détestent se trouvent à faire semblant d'être un couple lors d'un mariage en Espagne…