Sommaire :
La version originale : The Scottish Boy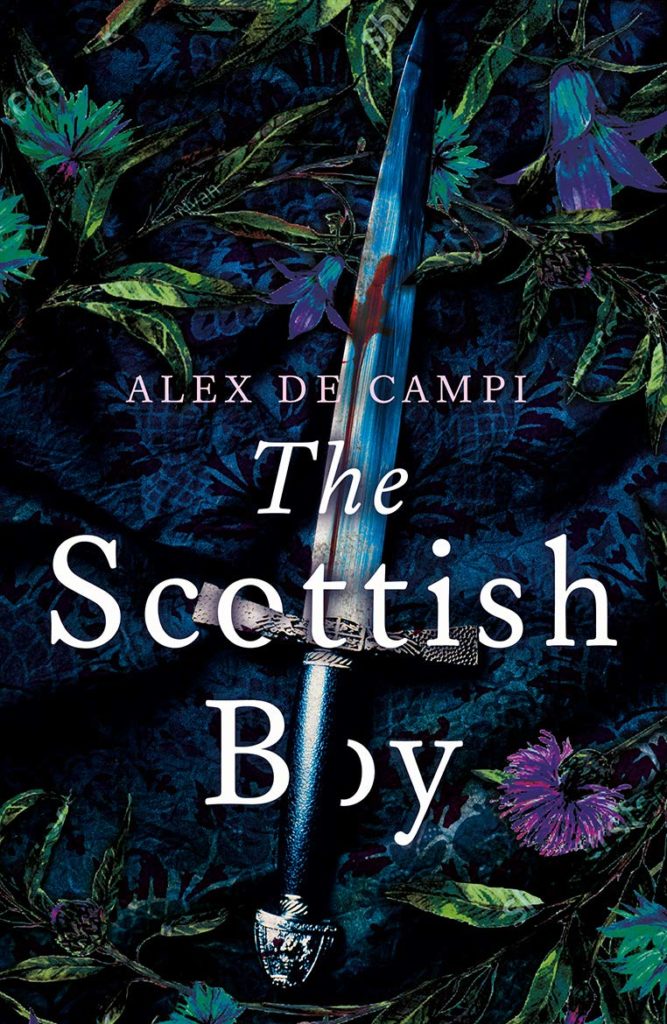 1333. Edward III is at war with Scotland. Nineteen-year-old Sir Harry de Lyon yearns to prove himself, and jumps at the chance when a powerful English baron, William Montagu, invites him on a secret mission with a dozen elite knights. They ride north, to a crumbling Scottish keep, capturing the feral, half-starved boy within and putting the other inhabitants to the sword.
But nobody knows why the flower of English knighthood snuck over the border to capture a savage, dirty teenage boy. Montagu gives the boy to Harry as his squire, with only two rules: don't let him escape, and convert him to the English cause.
At first, it's hopeless. The Scottish boy is surly and violent, and eats anything that isn't nailed down. Then Harry begins to notice things: that, as well as Gaelic, the boy speaks flawless French, with an accent much different from Harry's Norman one. That he can read Latin too. And when Harry finally convinces the boy – Iain mac Maíl Coluim – to cut his filthy curtain of hair, the face revealed is the most beautiful thing Harry has ever seen.
With Iain as his squire, Harry wins tournament after tournament and becomes a favourite of the King. But underneath the pageantry smoulder twin secrets: Harry and Iain's growing passion for each other, and Iain's mysterious heritage. As England hurtles towards war once again, these secrets will destroy everything Harry holds dear.
La version française
Ce roman n'est pas encore traduit en français.
Mon avis
★★★★ 4/5
Je suis tombée sur le roman The Scottish Boy en visionnant des vidéos sur Instagram et c'est notamment la couverture magnifique et cette vidéo qui ont réussi à me convaincre :
Je dois avouer que je suis assez partagée sur ce roman. J'ai vraiment adoré toute la première moitié, à tel point que le roman partait sur un 5 étoiles + coup de coeur de ma part. Leur relation d'ennemis à amis puis amants se construit vraiment lentement, elle est très crédible et véritablement passionnante à découvrir. J'ai adoré les deux personnages principaux, leurs qualités, leurs failles, et la façon dont leurs interactions évoluaient au fil du livre.
Cependant, il arrive le moment du premier gros élément perturbateur, à peu près au milieu du livre je pense et là… J'étais mal à l'aise. Je n'ai pas aimé la façon dont le premier "problème" se produit (j'essaye de ne pas spoiler). Même si je comprends la réaction des personnages, cela aurait pu et aurait du être évité avec de la communication (ma bête noire dans les romans). Surtout que Harry et Iain avaient une bonne communication ! Et disons que la réaction instantanée qui a suivie, bien que compréhensible sous un certain angle, m'a laissée un goût amer.
La construction de la fin du roman était aussi assez étonnante pour moi. On a passé tout le début du roman sur un rythme lent, avec presque 30 pages pour décrire chaque jour qui passe (j'exagère mais on n'en est pas loin) puis 4 ans se passe en 50 pages… J'ai trouvé ça curieux, c'est comme si on passait en avance rapide. Je comprends ce choix vis-à-vis de l'histoire (et de l'Histoire) et j'aurais été la première frustrée si l'auteur avait épilogué mais c'était tellement une rupture dans le rythme initial du livre que j'ai un peu décroché et j'avais un peu peur de la fin. Au final, la fin m'a convenue bien que je l'ai trouvée un peu trop vite expédiée. J'aurais préféré plus de stratégie je pense 🤔 Une sorte de plan machiavélique en somme 🙂
En tout cas, une chose est sûre, ce roman va être un de ces livres que je n'oublierai pas. J'ai plus envie de garder en tête la première moitié de l'histoire que la deuxième bien que, d'un point de vue très pragmatique, je ne sais pas trop comment l'auteur aurait pu angler son histoire différemment pour convenir à mon âme de romantique. Les relations homosexuelles à l'époque médiévale n'étaient jamais sans encombres et finissaient rarement en "Et ils vécurent heureux".
Attention, si vous êtes amateurs d'Histoire, j'ai cru comprendre que l'auteur avait pris beaucoup de libertés. Je ne peux pas trop juger, je n'ai pas les connaissances suffisantes mais je me demande si Alex de Campi n'aurait pas du placer son histoire dans un univers Fantasy. Cela lui aurait donné plus de flexibilité. Elle n'a pas choisi la facilité, c'est tout à son honneur 🙂
Petit aparté et après j'arrête, l'auteur a glissé des illustrations par Trungles entre les chapitres de son roman, j'ai trouvé que c'était une petite touche agréable qui permet de bien visualiser les personnages qu'elle avait en tête.