Sommaire :
La version originale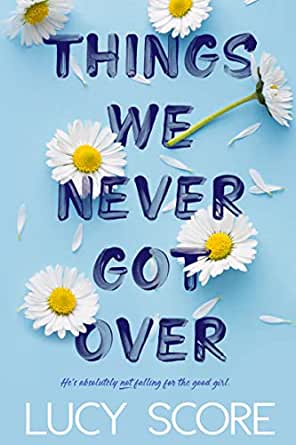 Bearded, bad-boy barber Knox prefers to live his life the way he takes his coffee: Alone. Unless you count his basset hound, Waylon. Knox doesn't tolerate drama, even when it comes in the form of a stranded runaway bride.
Naomi wasn't just running away from her wedding. She was riding to the rescue of her estranged twin to Knockemout, Virginia, a rough-around-the-edges town where disputes are settled the old-fashioned way…with fists and beer. Usually in that order.
Too bad for Naomi her evil twin hasn't changed at all. After helping herself to Naomi's car and cash, Tina leaves her with something unexpected. The niece Naomi didn't know she had. Now she's stuck in town with no car, no job, no plan, and no home with an 11-year-old going on thirty to take care of.
There's a reason Knox doesn't do complications or high-maintenance women, especially not the romantic ones. But since Naomi's life imploded right in front of him, the least he can do is help her out of her jam. And just as soon as she stops getting into new trouble he can leave her alone and get back to his peaceful, solitary life.
At least, that's the plan until the trouble turns to real danger.
La version française
Ce roman n'est pas encore traduit en français.
Mon avis
★★ 2/5
Ce roman a des notes intergalactiques sur Goodreads et malheureusement, je ne partage pas du tout cet engouement. J'aurais aimé vraiment mais ce livre n'était pas du tout pour moi.
Le problème majeur de ce roman pour moi ? Le personnage masculin. Je n'aimais vraiment pas Knox. Plus l'histoire avançait et moins je l'appréciais. Je ne voulais même pas qu'ils finissent ensemble à la fin du roman. C'est un personnage grincheux, sexiste, un peu trop dominant et dirigiste, immature, parfois limite impoli, avec un rapport à l'argent et à l'humain vraiment spécial. Je pense qu'on peut retranscrire l'image d'un "mâle alpha" un peu mieux que le portrait que l'on a de Knox dans ce roman. Il manquait clairement de substance. Un personnage comme Lucien paraît bien plus charismatique.
Au delà de ce personnage, j'ai trouvé ce roman divertissant mais clairement pas passionnant. Je m'ennuyais ferme aux alentours des 250-300 pages. Je ne dis pas ça souvent mais ce livre aurait mérité d'être plus court. J'avais l'impression de lire de bribes de vies sans réel fil conducteur, avec des enchaînements curieux, ce qui fait que je lisais vite mais sans véritable intérêt pour l'histoire.
Pour ne citer qu'un exemple (normalement sans trop de spoil), après le cambriolage de Naomi, Knox l'emmène avec lui quand il va couper des cheveux des sans-abris ?! Quel rapport avec l'action précédente ? En quoi ça l'aide après un évènement comme ça ? J'avais l'impression désagréable qu'il cherchait à se faire bien voir et à marquer des points à un moment clairement mal choisi.
Je n'avais pas forcément envie de les voir rester ensemble à la fin de l'histoire (oui pour une romance, c'est un comble). La relation me paraissait déséquilibrée avec une femme qui donne tout et un homme qui veut prendre sans réellement donner. Je durcis le trait mais c'est une impression que j'ai longtemps gardé en lisant ce roman. A 100 pages de la fin, je n'avais toujours pas passé ce cap.
En revanche, j'ai bien aimé la dynamique entre Waylay et Naomie qui me rappelait un peu celle de "Wait for it" de Mariana Zapata, qui est un de mes romans préférés. D'ailleurs, vous savez s'il y a un nom pour ce type de romans ? Car j'aime vraiment beaucoup ce genre d'histoires. (mais je digresse)
En résumé, ce roman est beaucoup trop long, il mixe beaucoup de "tropes" différents mais toujours très (trop) prévisibles. Ce n'est pas un livre désagréable à lire mais on a une vraie succession de clichés qui rendent le roman parfois assez frustrant.
Après avoir dévoré les romans d'auteurs comme T.J. Klune, on perd l'habitude de cheminement aussi classiques et clichés et je crois que je n'arrive plus à apprécier ce type de livres maintenant. Après, je suis visiblement l'exception donc n'hésitez pas à le lire pour vous faire votre propre avis !