Sommaire :
La version originale – Under Locke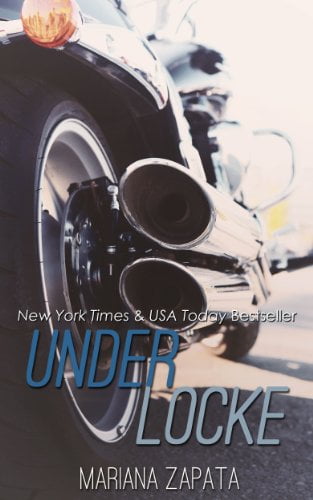 He was my boss, my brother's friend, a Widower, an ex-felon, and a man I'd seen casually with a handful of women. But he was everything that gripped me, both the good and the bad. Worst case scenario if things turned awkward between us, I could go somewhere else. I'd gotten over epic heartbreak before, one more wouldn't kill me.
After moving to Austin following six months of unemployment back home, Iris Taylor knows she should be glad to have landed a job so quickly… even if the business is owned by a member of the same motorcycle club her estranged father used to belong to. Except Dex Locke might just be the biggest jerk she's ever met. He's rude, impatient and doesn't know how to tell time.
And the last thing they ever expected was each other.
But it was either the strip club or the tattoo shop.
… she should have chosen the strip club.
La version française
Je n'ai pas trouvé de version française pour ce roman mais n'hésitez pas à me le signaler en commentaire s'il est disponible !
Mon avis
★★★★ 4/5
Under Locke permet de passer un très bon moment. De tous les romans de Mariana Zapata, il ne s'agit pas de mon préféré mais il reste une de ses valeurs sûres. Mariana Zapata fait partie d'une ligue à part et tous ses romans valent totalement la peine d'être lus !
Under Locke est, je crois, l'un de ses premiers romans et on est ici dans une romance slow burn moins lente que ce à quoi elle nous a habitué et ça fonctionne très bien ! On rencontre Iris qui commence à travailler à l'accueil d'un salon de tatouage tenu par Dex.
J'ai beaucoup aimé le personnage d'Iris, c'est une battante, elle ne se laisse pas faire et elle est drôle. En revanche, il m'a fallu du temps pour apprécier Dex et je le trouvais un peu trop directif par moment, voire parfois méchant, mais Mariana Zapata sait créer des héros taciturnes comme personne et on l'apprécie de plus en plus au fur et à mesure de la lecture.
J'ai un peu moins aimé un des petits twist de l'histoire qui est pour moi lié à un souci de communication (de la part des deux héros) et ce n'est pas ce que je préfère dans un roman. Mais encore une fois, c'est un livre très bien écrit, une romance slow burn bien ficelée avec des personnages secondaires très attachants.
J'aurais adoré un roman sur le frère de Iris, il m'intriguait. Qui sait ? Mariana Zapata fait parfois des clins d'oeil à ces romans et ce ne serait pas la première fois qu'elle créé un roman autour d'un personnage secondaire d'un autre de ses livres. De toute façon, elle pourrait écrire un livre de cuisine, je le lirais avec plaisir !