Sommaire :
La série Made Marian
La série Made Marian comporte 8 tomes, chacun centré sur un des frères de la famille Marian.
Chaque tome peut être lu seul mais vous allez être amené à croiser les différents membres de la fratrie et leur moitié très souvent, il est donc recommandé de les lire dans l'ordre.
La version originale – Jumping Jude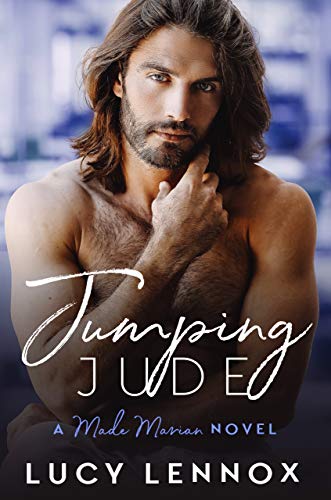 Jude
Reaching the top of the country music charts brings out the crazy, and there's no one crazier than my ex. Unfortunately, his threats to out me are escalating. Enter the bodyguard of my dreams.
I'd probably chafe under his constant presence if his attention to my body wasn't so… ah… thorough. Now I have to worry about outing myself to millions of fans if I can't keep my hands off him in public.
Derek
Now I'm an ex-Marine turned babysitter. If I have to hear Jude sing his mega-hit Bluebells one more time, I might murder him myself, and after 6 years in special ops, I know my way around a weapon. Unfortunately, so does he. Except his arsenal includes washboard abs and a killer set of pipes.
I've faced guns, knives, explosives and yet it's Jude Marian who may end up bringing me to my knees.
Fair warning: Jude and Derek's story contains frequent detailed scenes of man parts touching, little old ladies being inappropriate, and two lonely hearts coming together in perfect harmony.
La version française – Le Clan Marian tome 3 : Jude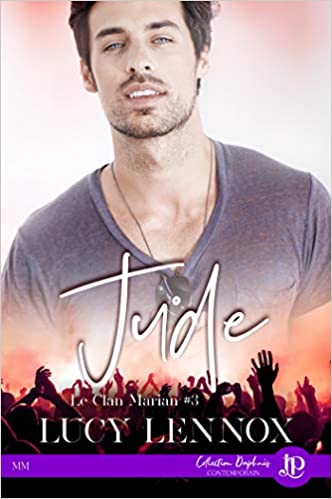 Jude
Atteindre le sommet du palmarès country attire les cinglés, et il n'y a pas plus cinglé que mon ex. Malheureusement, ses menaces contre moi s'intensifient. Entre alors en scène le garde du corps de mes rêves.
Je devrais me sentir irrité par sa présence constante si son attention sur mon corps n'était pas si… ah… approfondie. Maintenant, je dois m'inquiéter de ne pas me dévoiler à des millions de fans si je ne peux pas garder mes mains loin de lui en public.

Derek
Maintenant, je suis un ex Marine devenu baby-sitter. Si je dois entendre Jude chanter encore une fois de plus son méga-hit Bluebells, je pourrais l'assassiner moi-même, et après six ans dans des opérations spéciales, je sais me débrouiller avec une arme. Malheureusement, lui aussi. Sauf que son arsenal comprend des abdominaux d'enfer et une bouche redoutable.J'ai affronté des armes à feu, des couteaux, des explosifs et pourtant, c'est Jude Marian qui risque de me mettre à genoux.
Mon avis
★★★★ 4/5
J'ai un faible pour les personnages nommés Jude depuis que j'ai lu Deal Maker par Lily Morton. Et même si le Jude de Deal Maker restera mon préféré, j'ai passé un très bon moment avec Jumping Jude.
Enfin un roman dans cette série qui est un peu moins insta-love ! J'aime bien la série Made Marian mais j'avoue que l'aspect "amour instantané" et par ça, j'entends que les deux personnages ont déjà couché ensemble au bout de 30 pages, ne me plaît pas vraiment. J'aime le slow burn, les relations qui se construisent naturellement. Et dans cette série, c'est clairement ce qui manque un peu mais ce tome fait exception et ça fait du bien !
Quand le couple Derek / Jude commence à se rapprocher, ils se connaissent déjà depuis plusieurs mois. Aucun des deux personnages principaux n'est "out", cela n'aurait donc pas été très logique d'avoir une relation amoureuse instantanée à l'image des tomes précédents. J'ai beaucoup aimé leurs échanges. Jude a un côté très sarcastique et Derek est moins "mâle alpha imperturbable" que ce que l'on peut penser de prime abord.
Je ne donne pas 5/5 car l'histoire n'est pas toujours très crédible, j'ai trouvé l'intrigue principale un peu trop vite expédiée mais on passe un très bon moment !