Sommaire :
La version originale – Vicious (Sinners of Saint #1)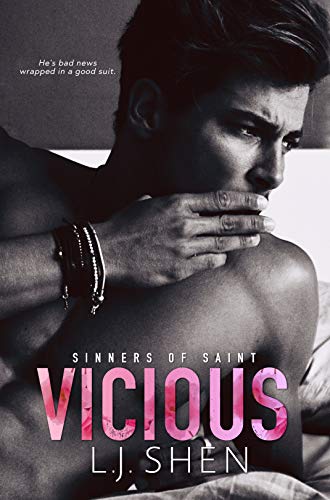 Emilia
They say love and hate are the same feelings experienced under different circumstances, and it's true. The man who comes to me in my dreams also haunts me in my nightmares. He is a brilliant lawyer. A skilled criminal. A beautiful liar. A bully and a savior, a monster and a lover.

Ten years ago, he made me run away from the small town where we lived. Now, he came for me in New York, and he isn't leaving until he takes me with him.

Vicious
She is a starving artist. Pretty and evasive like cherry blossom. Ten years ago, she barged into my life unannounced and turned everything upside down. She paid the price.

Emilia LeBlanc is completely off-limits, my best friend's ex-girlfriend. The woman who knows my darkest secret, and the daughter of the cheap Help we hired to take care of our estate. That should deter me from chasing her, but it doesn't. So she hates me. Big fucking deal. She better get used to me.
La version française – Vicious (Série Sinners #1)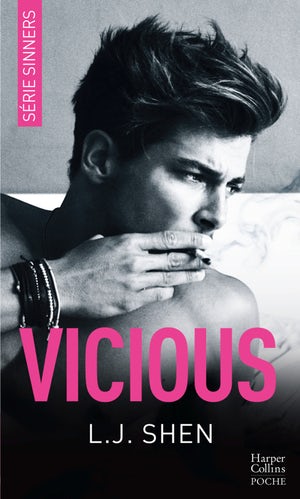 Il est le pire qui pourrait lui arriver… ou le meilleur
Vicious.  Le nom qu'il s'est choisi parle de lui-même. C'est un homme froid, cruel… et immensément riche. Ce qui veut dire qu'il a le monde à ses pieds.
Millie ne fera plus jamais l'erreur qu'elle a commise dix ans plus tôt, quand elle a cru qu'elle pouvait se mesurer à lui, répondre à ses provocations, lui rendre coup pour coup. Ils n'étaient que deux adolescents, et pourtant il a détruit sa vie, l'a forcée à l'exil, loin de sa famille et de tout ce qu'elle connaissait.
Alors, le soir où il surgit dans le bar de Manhattan où elle travaille à présent, adulte, plus beau et plus… dangereux que jamais, Millie sait qu'il n'y a qu'une solution : fuir.
Mais elle ne se fait pas d'illusions, si Vicious est venu la chercher, rien ne l'arrêtera. Une menace autant qu'une promesse…
Mon avis
★★★★ 4/5
J'avais Vicious dans ma liseuse depuis assez longtemps mais j'avoue l'avoir un peu oublié dans un coin. Je l'ai repris après avoir lu Defy. De prime abord, cette lecture me faisait un peu peur pour deux raisons : le côté "ex-copine de mon meilleur ami" et le côté harcèlement scolaire.
J'aime beaucoup les relations love/hate mais j'ai tendance à penser qu'il est complexe d'aborder la thématique du harcèlement sans créer des personnages antipathiques.
Finalement, j'ai passé un très bon moment avec Vicious.
Si j'ai eu du mal à comprendre certaines de leurs réactions (notamment dans leur adolescence), les personnes sont bien construits et les freins que j'avais à lire ce livre ont vite été levés.
Les deux personnages ont chacun leurs défauts et on a de l'empathie pour chacun d'eux. La conduite de Vicious et son côté bully peuvent être "compris" d'une certaine manière, ce qui nous permet de l'apprécier. Mais clairement, sur une grande partie du livre, on n'est pas sur une relation amoureuse extrêmement saine.
J'ai tout de même hâte de découvrir l'histoire de leur fils dans le tome Angry God de la série Spin-off All Saint High ! La description a l'air de rappeler certains éléments de l'histoire de ses parents donc on verra ce que ça donne, je vous tiens informés 🙂