Sommaire :
La version originale – Folk Around and Find Out (Good Folk: Modern Folktales #2)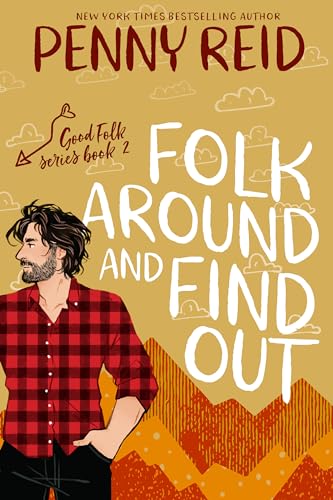 He needs to get her out of his system. Just once…

Hank Weller doesn't help people. He leaves that do-gooder nonsense to his best friend, Beau Winston. Hank does what he wants, when he wants, with whomever he wants—and Hank does not want to hire Charlotte Mitchell to be an exotic dancer at his club, The Pink Pony. Sure, he can't help noticing the dips and curves of her, how shrewd, smart, and funny she is, the fire in her hazel eyes. He's always noticed. She'd probably draw a crowd and entice the regulars. But after Charlotte's messy, public divorce made Hank's club out to be the culprit—and made her the single mother of four kids—he doesn't need or want any additional bad press courtesy of Charlotte Mitchell. Or the distraction. Unfortunately for him, the town's prettiest charity case doesn't seem to understand the meaning of the words nope, no, and never.

Charlotte Mitchell doesn't much like Hank Weller. Once upon a time, she used to. Years ago, she liked him a whole heckofalot despite other folks in town labeling him as "eccentric" and "nonconformist," which were polite southern alternatives to « filthy rich » and « self-centered douchebag. » Her opinion of him changed dramatically after he volunteered to be her date to junior prom and then promptly stood her up. They haven't so much as acknowledged each other in over a decade. But a sudden family emergency means Charlotte needs access to Hank's club ASAP. Unfortunately for her, the narcissistic fancy-pants doesn't seem to understand the meaning of the words help, generosity, and compassion.

But he's about to find himself schooled. Charlotte is going to teach Hank a lesson once and for all about basic human decency, whether he likes it or not.

Spoiler alert. . . he likes it. 😉
La version française
Ce roman n'est pas encore traduit en français.
Mon avis
★★★ 3/5
La série « Good Folk » est une série spin-off de la célèbre série « Winston Brothers » de Penny Reid et met en scène des personnages secondaires croisés dans les romans des Winston Brothers. J'attendais avec un peu d'impatience ce roman car les deux personnages principaux sont très différents l'un de l'autre avec un personnage masculin, Hank, assez sauvage. J'avais hâte de découvrir ce livre mais je dois dire que je reste mitigée.
Je ne sais pas si c'est que les problématiques rencontrées sont un peu trop éloignées culturellement de ce que l'on pourrait connaître en France. J'avais un peu de mal avec le poids de la religion dans la vie de Charlotte et le côté « bien sous tout rapport » attendu par tout le monde. Ce n'est pas du tout l'image que j'avais de Green Valley quand j'ai lu la série Winston Brothers.
D'ailleurs parlons-en ! On sent que Penny Reid a aussi voulu faire plaisir en faisant apparaître toute la fraterie Winston au point où c'est presque trop. Je comprends la présence de Beau, qui est le meilleur ami de Hank, mais ça vire presque au défilé. Et pourtant curieusement on voit à peine Shelly, ce que j'ai trouvé dommage, j'ai l'impression que Penny Reid ne maîtrise pas totalement son personnage. En tout cas, je me dis que pour quelqu'un qui lit cette série sans avoir lu les Winston Brothers au préalable, ça devient impossible de suivre qui est qui surtout si on ajoute leur moitié et leurs enfants.
Au sujet des enfants, j'ai trouvé que les scènes où ils apparaissaient étaient de loin les plus intéressantes. Mais il n'y en avait pas suffisamment à mon goût surtout quand on voit à quel point ils font partie intégrante de l'intrigue initiale (qui n'avait aucun sens à mes yeux).
J'ai également un souci avec l'ex de Charlotte dont on entend à peine parler et qui paraît être insupportable. Charlotte a tout de même eu 4 enfants avec lui dont un très récemment (le dernier, Frankie, a 2 ans) donc il doit bien avoir quelque chose de bien pour lui hormis sa fortune ? J'avais l'impression que c'était un peu une solution de facilité de le rendre invisible dans l'histoire.
Et enfin le dernier (et principal) point qui m'a dérangé : le rythme de l'histoire.
Il me semblait me souvenir que Charlotte était déjà strip-teaseuse à l'époque des Winston Brothers mais je peux me tromper, je n'ai pas relu les romans. En tout cas, ça m'a fait bizarre de voir qu'au final, elle ne l'était pas du tout. Ca faisait un peu rattrapage… (Après j'ai vu que le prochain tome allait concerner Hannah donc au moins on aura bien une héroine qui sort un peu des sentiers battus)
Ensuite l'histoire est très bizarrement racontée, on a des moments importants complètement passés sous silence et à l'inverse, des moments pas du tout important racontés en long en large en travers. Je n'ai pas trouvé mon compte dans ce roman. On est clairement sur du slow burn, mais j'aurais préféré avoir plus de moments entre eux deux plutôt que des moments chacun de leur côté à mesurer le pour et le contre d'être ensemble. En conséquence, quand on arrive à l'épilogue, c'est le déluge d'informations et on se sent un peu déconnecté de l'histoire.
Je dis beaucoup de points négatifs/à améliorer mais dans l'ensemble, ce roman se lit bien (comme beaucoup de romans de Penny Reid). J'ai eu plaisir à revoir des personnages que j'ai beaucoup aimé dans les Winston Brothers.
Charlotte & Hank m'ont un peu déçue, c'était soit trop, soit pas assez, mais je pense que je me laisserais tout de même tenter par le prochain tome qui sera centré sur Isaac. Vu ce qu'on avait appris sur lui dans Dr. Strange Beard, cela promet d'être intéressant. 🙃