Sommaire :
La série "Winston Brothers"
Dr. Strange Beard et le cinquième tome de la série "Winston Brothers". S'il peut être lu seul, il est tout de même recommandé de lire les tomes précédents.
Chaque tome est consacré à des membres de la fratrie Winston, soit dans l'ordre :
Cette série est un spin-off de la série Knitting in the City (Le Club des Tricoteuses Anonymes en français) mais vous pouvez lire facilement "Winston Brothers" sans avoir lu "Knitting in the City".
La version originale : Dr. Strange Beard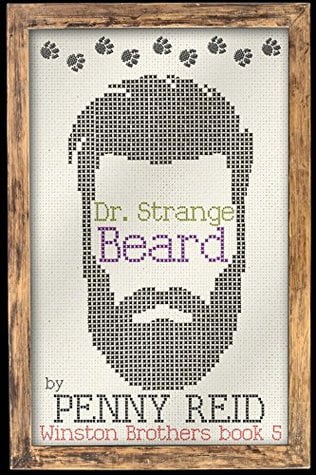 Hunches, horse races, and heartbreak
Ten years after Simone Payton broke his heart, all Roscoe Winston wants is a doughnut. He'd also like to forget her entirely, but that's never going to happen. Roscoe remembers everything—every look, every word, every single unrequited second—and the last thing he needs is another memory of Simone.
Unfortunately, after one chance encounter, Simone keeps popping up everywhere he happens to be . . .
Ten years after Roscoe Winston dropped out of her life, all Simone Payton wants is to exploit him. She'd also like some answers from her former best friend about why he ghosted her, but if she never gets those answers, that's a-okay. Simone let go of the past a long time ago. Seriously, she has. She totally, totally has. She is definitely not still thinking about Roscoe. Nope. She's more than happy to forget he exists.
But first, she needs just one teeny-tiny favor…
La version française
A ma connaissance, le roman n'est pas encore disponible en français.
Mon avis
★★★★ 4/5
Avec ce tome 5, la série des Winston Brothers prend un virage un peu différent, un peu plus sombre. On quitte un peu le côté "Romance feel good" pour une série un peu plus policière sur fond de FBI et de gang de motards.
J'ai été très touchée par le personnage de Roscoe, un peu moins par celui de Simone.
Si elle joue un rôle prépondérant dans sa vie à lui, il semble beaucoup plus secondaire pour elle. Et même si au fur et à mesure où on tourne les pages, on comprend qu'elle n'est pas aussi indifférente qu'elle le souhaiterait, j'ai toujours garder un peu cette impression qu'elle utilisait Roscoe.
Mais Roscoe, Roscoe est définitivement un des Winston Brothers les plus attachants ! C'est comme si Penny Reid était entrée dans mon cerveau pour créer une personnification parfaite de mon book boyfriend. Et en plus, elle le fait interagir avec des chiots…
De par son âge et ses études, on voyait un peu moins Roscoe dans les tomes précédents, on apprend donc à le connaître dans ce tome. J'ai particulièrement aimé sa relation avec Billie.
Chaque personnage de la fratrie à sa véritable personnalité et ses angoisses, des éléments qu'on ne soupçonne pas tant qu'on ne lit pas le tome qui lui est consacré. Penny Reid a vraiment bien réussi à éviter des personnages trop semblables.
Au global, ce tome m'a paru plus centré sur le personnage de Simone que sur celui de Roscoe et j'ai trouvé ça un peu dommage même si je peux comprendre son choix. On a de plus en plus hâte de découvrir l'histoire de Billie qui s'annonce chargée en émotions.