Sommaire
La version originale – Let Your Hearts Be Light (Christmas Daddies #1)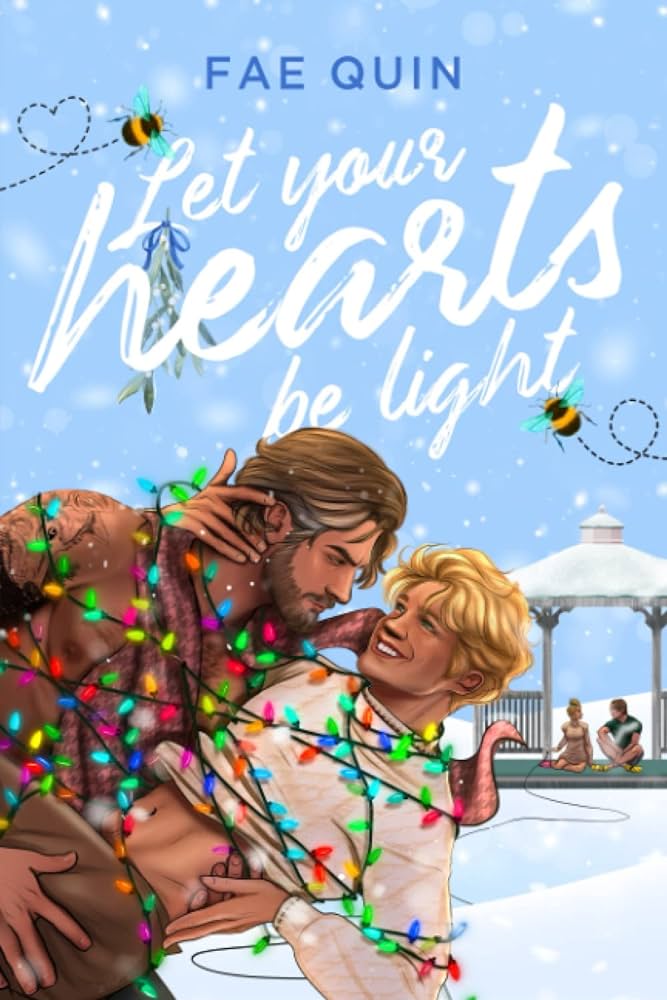 A stranger is just someone you haven't been forced to spend Christmas with yet.
Baxter: As a 42-year-old single father the last thing I expected before Christmas was for my daughter to sign me up for a community matchmaking event. The Christmas Buddies program becomes a challenge I can't wait to overcome when I realize the man that has been assigned as my buddy for the holiday season is none other than Paxton Montgomery. He's massive, grumpy, incredibly gorgeous (in a lumber jack kinda way), and also—weirdly enough—the only person in town who doesn't like me. Can I change Paxton's tune by the end of the holiday season? Or am I destined to spend yet another Christmas craving companionship and someone to hold my head up before I drown in the stress of my broken bakery?
Paxton: I'm not a people person. I know this about myself and I am at peace with it. The only exception I have is my son. He's the most important person in the entire world to me. So I had no choice but to go along with his scheme as he rigs the Christmas Buddy drawing so we can spend the holiday season with the girl he's had a crush on since junior high. The only catch: her father is a crucial part of the bargain. Can I survive the holiday season with sunshine golden boy Baxter bombarding me with his jokes and his too-bright smiles? Or will I succumb to my dark desires and strangle the grin right off his too-pretty face?
La version française
Ce roman n'est pas encore disponible en français.
Mon avis
★★★★ 4/5
Un très beau 4/5 pour cette romance de Noël gay qui a été une belle surprise ! Qui dit romance de Noël dit souvent scénario assez prévisible. Alors certes, c'est le cas ici, mais on a la particularité d'avoir une romance très mature avec comme personnages principaux, deux hommes d'une quarantaine d'années. Et bonus, c'est beaucoup plus spicy que ce que je pensais !
Comme chaque romance de Noël qui se respecte, le scénario n'est pas toujours très crédible ni réaliste. On découvre donc Baxter et Paxton, deux pères célibataires que tout oppose, qui doivent faire équipe pour un programme nommé « The Christmas Buddies » et participer ensemble à trois activités accompagnés de leurs enfants. Ils se connaissent depuis plusieurs années mais Paxton a toujours détesté Baxter et son sourire constant. Pourtant, au fil de leur rencontre, ils vont s'apercevoir qu'ils s'étaient peut-être mal jugés.
J'ai dévoré ce roman en une journée, on ne voit pas les pages défiler ! J'ai beaucoup aimé leur relation et le fait que chaque personnage ait ses fragilités. On rencontre leurs enfants, on peut constater au fil des pages qu'ils sont leur priorité et cela reste une constante dans le livre mais sans jamais prendre trop de place par rapport à la romance. C'est un bel équilibre très bien respecté.
Pourquoi pas 5 étoiles me direz-vous ? Et bien parce que par moment, j'ai trouvé que les sentiments changeaient un peu trop rapidement, j'aurais préféré un peu plus de slow-burn. Du moment où le voile que Paxton a sur les yeux se lèvent, c'est un peu instalove (ou au moins instalust). Mais au final, ce n'est pas du tout gênant pour apprécier l'histoire.
En voyant la couverture, je m'attendais à quelque chose de très Vanilla mais j'étais étonnée par les ardeurs de notre cher Paxton qui n'est pas le dernier pour du Dirty Talk. Une bonne surprise 🙃
En définitive, si vous cherchez une romance de Noël parfaite pour se blottir sous un plaid, je ne peux que vous la recommander ! J'ai d'ores et déjà attaqué le tome 2 (que j'aime encore plus), dédié à Trent, le frère de Paxton.