Sommaire :
La version originale – In The Lives of Puppets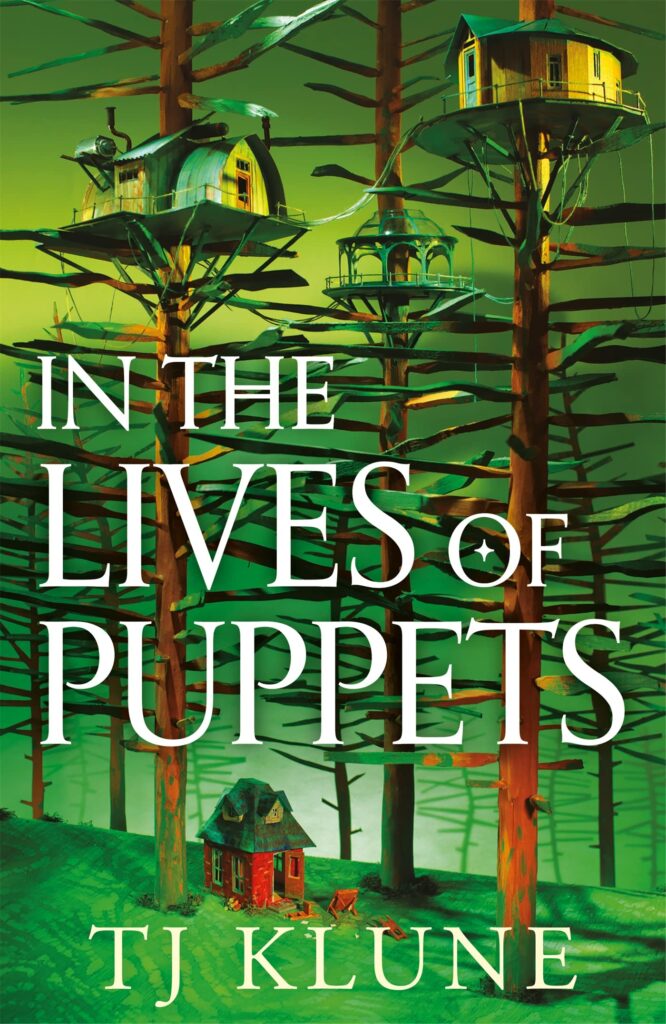 In a strange little home built into the branches of a grove of trees, live three robots–fatherly inventor android Giovanni Lawson, a pleasantly sadistic nurse machine, and a small vacuum desperate for love and attention. Victor Lawson, a human, lives there too. They're a family, hidden and safe.
The day Vic salvages and repairs an unfamiliar android labelled "HAP," he learns of a shared dark past between Hap and Gio-a past spent hunting humans.
When Hap unwittingly alerts robots from Gio's former life to their whereabouts, the family is no longer hidden and safe. Gio is captured and taken back to his old laboratory in the City of Electric Dreams. So together, the rest of Vic's assembled family must journey across an unforgiving and otherworldly country to rescue Gio from decommission, or worse, reprogramming.
Along the way to save Gio, amid conflicted feelings of betrayal and affection for Hap, Vic must decide for himself: Can he accept love with strings attached?
La version française
Ce roman n'est pas encore traduit en français.
Mon avis
★★★★★ 5/5
Je suis une fan inconditionnelle de tous les romans de TJ Klune. Il a le secret pour écrire des livres qui font s'évader, rire et pleurer. Alors quand j'ai vu qu'il sortait un nouveau roman présenté comme une revisite de Pinocchio, j'étais obligée de l'acheter dès sa sortie ! Et j'ai vraiment passé un très bon (et beau) moment.
Dans "In The Lives of Puppets", on retrouve tous les ingrédients qui font le succès des romans de TJ Klune. De l'humour, des personnages attachants (Rambo aura mon coeur pour toujours ❤️), un trope "found family", de l'aventure…
Je peux difficilement décrire les événements de ce roman sans spoiler, je pense que c'est mieux d'y aller à l'aveugle. J'ai vraiment lu ce livre sans savoir ce que j'allais trouver sur la page suivante et c'est tellement rafraichissant ! Si je devais résumer, je dirais que c'est une histoire de robots qui paradoxalement aborde le sujet de l'humanité et ce qui fait qu'on est humain.
Je n'avais pas vraiment de souvenir du dessin animé Pinocchio et je n'ai aucune connaissance de l'oeuvre originale mais je dois admettre que, si j'ai vu des similitudes avec Pinocchio, je n'irai pas jusqu'à dire que c'est une revisite de Pinocchio. Il y a des inspirations, c'est certain, mais je trouve qu'on est sur deux oeuvres assez distinctes.
Je me contenterais donc de dire que j'ai adoré tous les membres qui composent cette famille pour le moins unique en son genre. Je l'ai dit plus haut mais jamais je n'aurais pensé pouvoir aimer autant un aspirateur robot. Rambo est tellement mignon. Tous les personnages se complètent à la perfection et les dialogues font mouche ! Il y a quelques longueurs sur la deuxième partie du roman mais on les oublie vite.
Dès les premières pages du roman, j'avais cette envie qu'il ne finisse pas et je dois dire que la fin du roman m'a donnée envie de revenir dans cet univers, je pense qu'il y aurait encore des aventures à raconter.
TJ Klune écrit dans les remerciements qu'il a du faire beaucoup de modifications à son roman suite aux retours de sa maison d'édition. Il aurait aimé que son livre puisse être ce qu'il avait en tête initialement mais malheureusement "le monde n'était pas prêt". Je dois avouer que je suis très curieuse de savoir ce qu'il avait en tête. TJ Klune a cette capacité de créer des personnages réalistes et ce, même dans un roman fantastique, et surtout de vraiment faire attention à la représentation. J'aimerais beaucoup lire un de ses romans sans correction.