Sommaire :
La version originale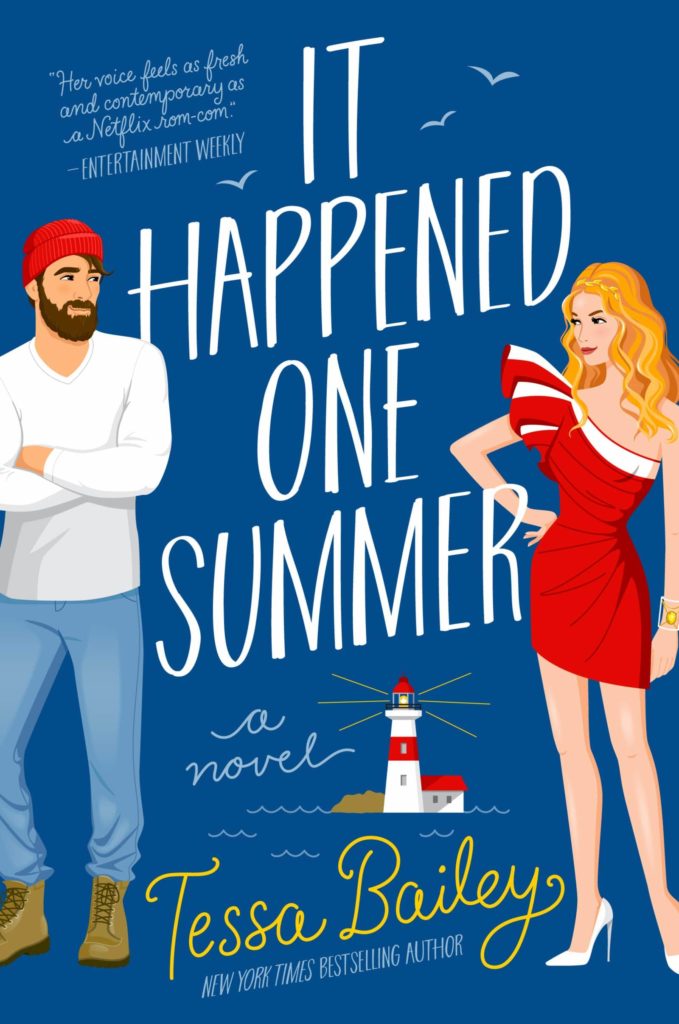 Piper Bellinger is fashionable, influential, and her reputation as a wild child means the paparazzi are constantly on her heels. When too much champagne and an out-of-control rooftop party lands Piper in the slammer, her stepfather decides enough is enough. So he cuts her off, and sends Piper and her sister to learn some responsibility running their late father's dive bar… in Washington.
Piper hasn't even been in Westport for five minutes when she meets big, bearded sea captain Brendan, who thinks she won't last a week outside of Beverly Hills. So what if Piper can't do math, and the idea of sleeping in a shabby apartment with bunk beds gives her hives. How bad could it really be? She's determined to show her stepfather—and the hot, grumpy local—that she's more than a pretty face.
Except it's a small town and everywhere she turns, she bumps into Brendan. The fun-loving socialite and the gruff fisherman are polar opposites, but there's an undeniable attraction simmering between them. Piper doesn't want any distractions, especially feelings for a man who sails off into the sunset for weeks at a time. Yet as she reconnects with her past and begins to feel at home in Westport, Piper starts to wonder if the cold, glamorous life she knew is what she truly wants. LA is calling her name, but Brendan—and this town full of memories—may have already caught her heart.
La version française
Ce roman n'a pas encore été traduit en français.
Mon avis
★★★ 3,5/5
J'ai choisi ce livre face à tous les avis positifs que je pouvais voir sur Goodreads et cela me paraissait être un roman parfait pour l'été. C'était sympa… Mais je dois admettre que je m'attendais à mieux compte tenu du nombre de 4/5 et de 5/5.
Le roman se lit facilement, les personnages sont attachants, mais ce n'est clairement pas un coup de coeur de mon côté, peut-être à cause d'un manque d'originalité de l'histoire ?
Ce roman m'a beaucoup fait penser à la série Lucky Harbor, peut-être même un peu trop. Si jamais vous ne l'avez jamais lue et que vous avez adoré It Happened One Summer, je vous invite à enchaîner sur cette série, cela devrait vous plaire !
Il y a quand même de très bons points dans ce roman. On a une héroïne qui évolue et se construit petit à petit et ce, sans que cela ne dépende forcément de ses interactions avec le personnage masculin. Ce qui est très appréciable. Ses évolutions sont liées principalement à son tempérament et à son environnement.
C'est également une histoire vraiment mignonne avec un personnage masculin très mature et sûr de ses choix, ce qui est assez rare dans ce type de romans. Même si j'avoue avoir été un peu interloquée par la puissance de sa réaction au "twist" de fin, cela me paraissait disproportionné…
J'ai vu que ce roman était comparée à une romance Netflix et c'est vraiment ça. Une histoire simple, mignonne, sans prise de tête, avec une jolie couverture… Mais que je vais peut être oublier. 🙃
It Happened One Summer, bientôt adapté en film
L'auteur de It Happened One Summer a indiqué le 11 juin 2022 sur son compte Instagram que le roman allait prochainement être adapté en film :
J'ai hâte de voir le casting ! Une idée de qui pourrait jouer les deux héros ?