Sommaire :
La série Necessary Evils
La série Necessary Evils compte 7 tomes, un pour chacun des frères Mulvaney. Il s'agit de Dark Romances, pensez donc bien à vérifier les trigger warnings de chaque tome pour ne pas vous faire surprendre. Moonstruck est le troisième tome de la série. Si chacun des tomes peut être lu indépendamment, il est tout de même recommandé de les lire dans l'ordre. Retrouvez la totalité de la série par ici :
La version originale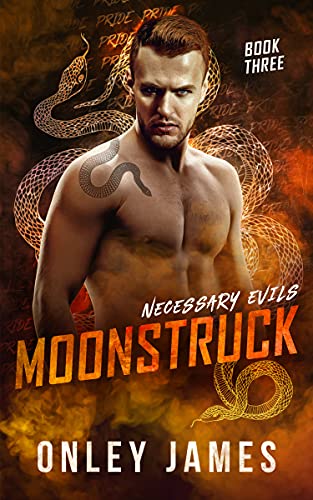 Atticus Mulvaney is the eldest son of eccentric billionaire, Thomas Mulvaney—a role he takes very seriously. Atticus takes everything seriously. Like his brothers, Atticus is a psychopath, raised to right the wrongs of a broken justice system. Unlike his brothers, he's not very good at it.
Jericho Navarro is no psychopath, but he is a vicious killer. Like Atticus, he also has a secret life. To most, he's just a mechanic. But to a ragtag group of social misfits, he's Peter Pan, teaching them to eliminate those who prey on the weak with extreme prejudice.
When Atticus and Jericho come face to face over a shared enemy, their accidental meeting ends in an explosively hot hookup neither can forget. But they have nothing in common. Atticus is a buttoned-up closeted scientist and Jericho is a man on a mission, determined to find and punish those responsible for the death of his sister. Still, Jericho can't stay away. And, truthfully, Atticus doesn't want him to.
As Jericho's mission begins to bleed into Atticus's life, two separate but equally brutal families will need to learn how to fight together to take out a common enemy. But no amount of brute force can show Jericho how to scale the walls of a psychopath's heart. Can Jericho convince Atticus that, sometimes, the couple who kills together stays together?
La version française
Ce roman n'est pas encore traduit en français.
Mon avis
★★★ 3,5/5
De tous les tomes qui composent la série « Necessary Evils », Moonstruck est peut-être celui que j'ai le moins apprécié. D'après ce que j'ai pu voir sur Goodreads, je suis plutôt une exception, beaucoup ont adoré ce troisième roman.
J'aime beaucoup Jericho, j'apprécie moins Atticus. J'ai commencé à lire ce roman en ayant en tête que je n'avais pas vraiment envie d'en savoir plus sur Atticus donc je n'étais vraiment pas acquise à sa cause. Si je trouvais que les deux premiers tomes étaient vraiment boostés par les échanges entre les différents Mulvaney, c'est un peu moins le cas dans ce troisième tome car Atticus a une relation assez conflictuelle avec ses frères. Cela étant, j'ai réussi à lire ce roman sans problème malgré mon manque d'intérêt initial. J'ai même passé un très bon moment !
Ce tome nous permet de rencontrer les enfants / frères / amis de Jericho (oui les trois à la fois), Felix et toute sa bande, pour lesquels Onley James a déjà annoncé une série spin off. Et je serai définitivement au rendez-vous ! J'ai adoré leur dynamique. Cela promet de belles choses pour la suite ! Car je sais d'ores et déjà que j'aurais du mal à dire au revoir aux Mulvaney.
⚠️ A l'image des tomes précédents ce roman a aussi des trigger warnings : violence, mentions de viols passés, trafic d'humains. Pensez à bien les consulter avant lecture.