Sommaire :
La version originale – Prince in Disguise (Perilous Courts #2)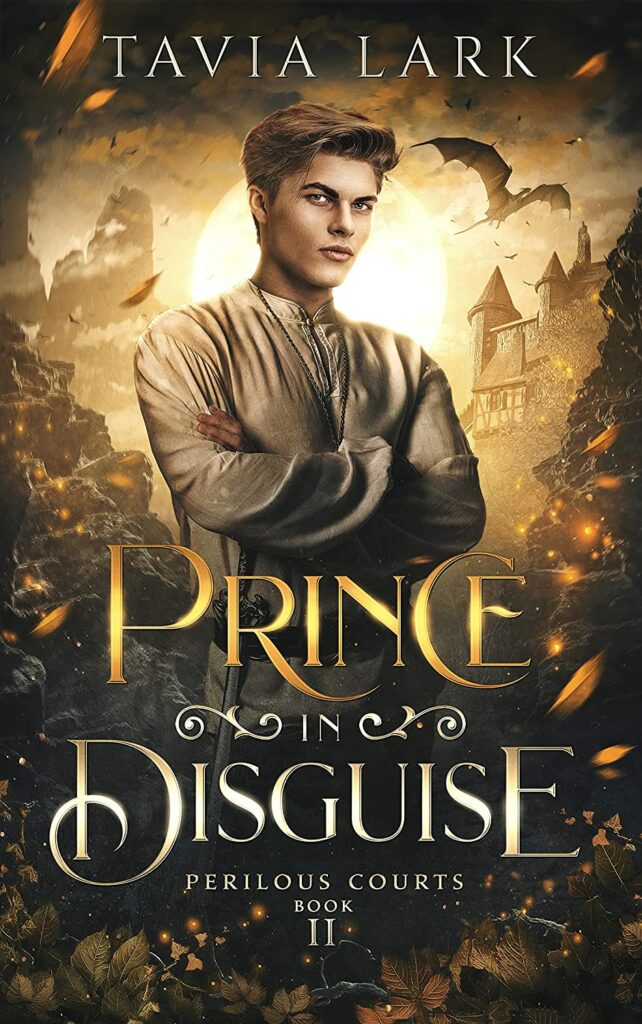 Rakos isn't really a farmer. Bellamy definitely isn't a minstrel.
Sheltered, sickly Prince Bellamy always longed for adventure—but not like this. Captured in enemy territory, Bellamy's true identity will get him killed, or worse. When his smoking-hot fellow prisoner asks who he is, Bellamy claims to be a minstrel.
Even though he can't carry a tune to save his life. He panicked, okay?
Rakos was the rising star of the Draskoran dragon riders until betrayal landed him in chains. He knows two things for certain: he can't trust anyone, and he wants his dragon back. When a pretty, fragile minstrel asks who he is, Rakos claims he's a farmer. When Bellamy begs for help reaching the border, Rakos refuses.
Until Bellamy reveals his magic is exactly what Rakos needs.
Stormy nights, pursuing soldiers, and deadly masquerades forge Rakos and Bellamy's unlikely partnership into something more. Something exhilarating. Rakos treats Bellamy like a person, not a weak, untouchable prince, even as he protects him.
But Rakos's enemies are circling in, and that very protection might be Bellamy's undoing.
La version française
Ce roman n'est pas encore traduit en français.
Mon avis
★★★ 3,5/5
"Prince in Disguise" est le deuxième tome de la série "Perilous Courts", vous pouvez retrouver le tome 1, Prince and Assassin, par ici. J'avais adoré le premier livre centré sur Julien et Whisper. Le deuxième roman est centré sur Bellamy, le petit frère de Julien et Audric. 
Ce n'est pas un mauvais roman, loin de là, mais on laisse de côté les jeux de dupes des courtisans pour un périple sur une Terre ennemie. On est donc sur une ambiance radicalement différente du premier tome.
Mon point de "blocage" sur ce deuxième tome ? J'avais l'impression que Bellamy et Rakos étaient tout aussi benêts l'un que l'autre. Chacun s'est trouvé une fausse identité, aussi peu crédible dans un sens que dans l'autre. Je peux comprendre que l'isolation de Bellamy ait eu des conséquences sur sa façon d'appréhender le monde extérieur, mais j'ai trouvé peu crédible que Rakos veuille le garder à ses côtés au tout début. Bell n'est pas vraiment une aide, plutôt tout l'inverse…
Quant à Rakos, je ne lui trouve pas vraiment d'excuse, il est supposé être un capitaine dans l'armée, donc un mini peu stratège… On ne voit absolument pas cet aspect là, le monsieur est tout perdu. C'est ce qui donnait toute l'envergure du premier tome, les jeux de pouvoir, la paranoïa, ici, on a rien de tout ça, juste deux personnages très seuls et perdus dans un jeu trop complexe pour eux.
Ils sont mignons, complices mais vraiment ce ne sont pas les crayons les mieux taillés de la trousse. J'ai trouvé que le dénouement était également beaucoup trop simple pour être réaliste et crédible et cela me pose un peu de souci sur l'intégrité de Rakos. On est sur un happy ending mais je suis mitigée.
J'ai eu le même souci que sur le premier tome, l'autrice utilise des termes qu'elle définit bien après dans le roman. Elle nomme beaucoup de maisons dans le Royaume et j'en suis venue à regretter qu'il n'y ait pas une carte au début du roman. Je vais enquêter pour savoir si Perilous Courts n'est pas une série spin-off d'une autre série. Cela expliquerait un peu plus tout ce vocabulaire non défini dans tous les sens. Je me dis que c'est peut-être qu'elle réutilise déjà un univers installé.
En tout cas, j'ai adoré revoir Whisper et Julien, même si j'ai trouvé que les compétences de Whisper auraient pu être mieux mises à contribution ! Mais c'est parce que je l'aime beaucoup, donc j'en voulais plus 🙂 Il y a un chapitre au milieu du livre du point de vue de Julien, beaucoup n'ont pas compris l'intérêt de ce chapitre mais de mon côté, cela ne m'a pas dérangé même si effectivement, il n'est pas forcément utile.
Le tome 3 doit être publié fin janvier, j'ai hâte d'en savoir plus sur l'histoire de l'ainé des trois frères : Audric. 🙂 Il a l'air réservé et badass, ça promet de belles choses !