Sommaire :
La version originale : Dear Aaron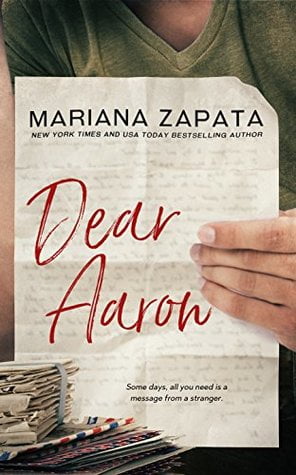 Ruby Santos knew exactly what she was getting herself into when she signed up to write a soldier overseas.
The guidelines were simple: one letter or email a week for the length of his or her deployment. Care packages were optional.
Been there, done that. She thought she knew what to expect.
What she didn't count on was falling in love with the guy.
La version française
A ma connaissance, Dear Aaron n'a pas encore été traduit en français, n'hésitez pas à m'indiquer s'il est maintenant disponible !
Mon avis
★★★★★ 5/5 ❤️
Mariana Zapata nous emmène au coeur des échanges de Ruby, une jeune fille introvertie et Aaron, un militaire déployé en mission.
Ruby, jeune fille timide, fait partie d'une association qui vient en aide aux militaires à l'étranger en leur proposant d'avoir une écoute, quelqu'un avec qui échanger. Par ce biais, elle rencontre Aaron avec qui elle commence à discuter. Ce roman a la particularité d'être composé pour moitié d'échanges d'emails, une sorte de roman épistolaire 2.0.
Et très honnêtement, j'ai ADORÉ. Je pense l'avoir lu 3 ou 4 fois. C'est un peu (totalement) mon livre doudou. Comme tous les livres de Mariana Zapata, c'est une romance slow burn donc lente, très lente dans sa mise en place. Mais si vous aimez les romances slow burn, vous savez comme moi que Mariana Zapata est une des meilleures auteurs du genre.
Je sais que pour beaucoup, Ruby est un peu trop "fragile" comme héroïne mais personnellement, je n'ai pas été dérangée par cet aspect de sa personnalité. Je trouve que ce type de rencontre colle parfaitement à son personnage et leurs échanges étaient vraiment captivants voire parfois très drôles ! Leur relation est un peu une petite bulle dans laquelle ils peuvent être eux-mêmes sans aucune intervention extérieure.
Je les ai tellement aimés que j'adorerais que l'auteur fasse un tome bonus qui se situe entre la fin du tome 1 et l'épilogue. La fin était un peu rapide, je n'étais pas prête à leur dire au revoir ! Je me console en me disant qu'on retrouve Aaron et Ruby dans le roman From Lukov with Love, une histoire centrée sur Jasmine, la petite soeur de Ruby.
En attendant, Aaron est définitivement dans ma liste de mes book boyfriends ❤️