Sommaire :
La version originale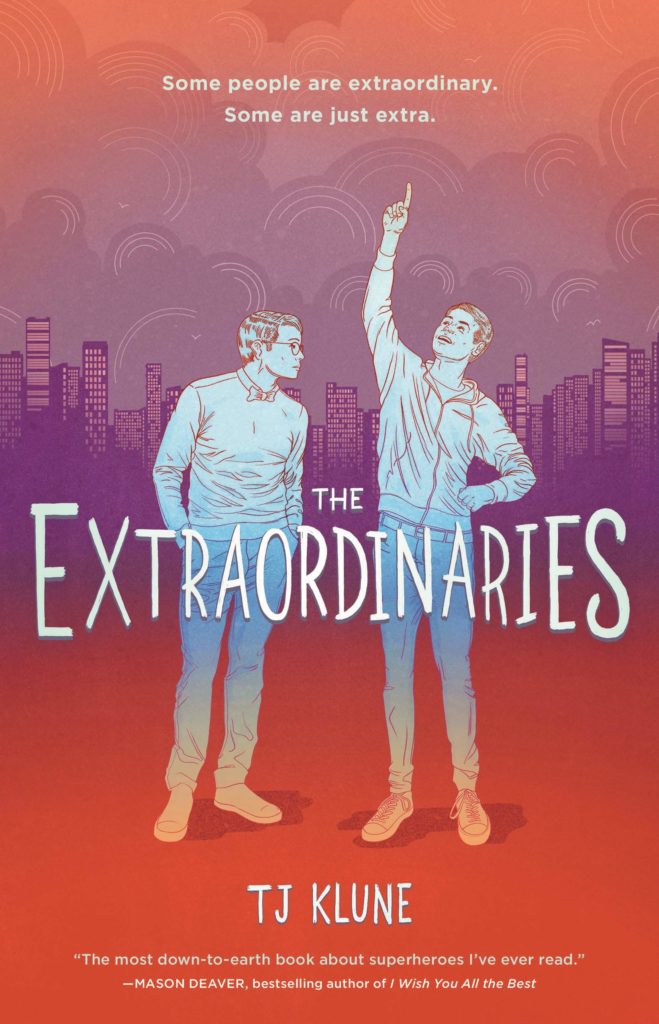 Nick Bell? Not extraordinary. But being the most popular fanfiction writer in the Extraordinaries fandom is a superpower, right?
After a chance encounter with Shadow Star, Nova City's mightiest hero (and Nick's biggest crush), Nick sets out to make himself extraordinary. And he'll do it with or without the reluctant help of Seth Gray, Nick's best friend (and maybe the love of his life).
La version française
Ce roman n'est pas encore traduit en français.
Mon avis
★★★★ 4,5/5
Après avoir enchainé sur des romans adultes, j'avais envie d'un peu de légèreté et de livres Young Adult. J'étais exactement dans un mood TJ Klune. J'ai donc décidé de commencer la trilogie The Extraodinaries dont le troisième tome, Heat Wave, vient de sortir. J'étais déterminée à attendre que la totalité de la série soit disponible avant de la commencer. Avec TJ Klune, c'est une nécessité.
J'ai passé un très bon moment avec The Extraodinaries. J'ai lu le roman en à peine 2 jours et j'ai ri à plusieurs reprises. J'ai particulièrement aimé la relation entre Nick et son père. La fin (et le chapitre caché après l'épilogue) laissent présager de belles choses pour la suite de la série, j'ai hâte de voir les aventures qui les attendent.
Si je ne mets pas 5 étoiles, c'est principalement pour l'aspect romance. J'avais un peu l'impression de retrouver la même relation que Ryan et Sam dans The Lightning-Struck Heart (je ne sais pas lequel des deux romans a été publié en premier). C'est exactement le même type de début de relation. Le seul bémol est qu'on termine ce premier tome en en ayant appris très peu sur Seth. On nous raconte beaucoup de choses sur le personnage de Seth, sa proximité avec Nick, leur relation, mais on ne les voit que très rarement ensemble, c'est un peu frustrant. Les principaux éléments que l'on sait sont ceux qui nous ont été dits. J'espère que TJ Klune va creuser un peu son personnage dans les tomes suivants.
Dernier point (et après j'arrête), ce roman est classé Young Adult, alors oui, on est sur du Young Adult mais il y a quand même beaucoup d'éléments mentionnés associés au sexe. A mes yeux, plus que dans un roman Young Adult classique. Cela ne m'a pas dérangée mais je me dis que cela peut surprendre un lectorat assez jeune 🙂