Sommaire :
La version originale – Goal Lines & First Times (CU Hockey #3)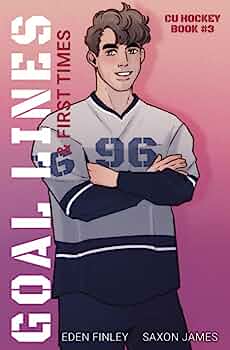 COHEN
It turns out making out with my best friend in high school could be considered gay. Who knew? Apparently, everyone but me.
Now that it's been pointed out, I can't help reliving it in my head. Repeatedly. Goodbye Denial Town, hello Confusionville.
When my path leads me down the gay dating app route, I don't expect to meet anyone I like, but then I meet him.
He can't be more opposite than me. He's smart, he hates hockey, and he identifies as demi—something I've never heard of.
Yet I can't deny something's there. Something I want to explore in person. If only I could get him to agree.
SETH
All my life, I've felt broken.
Sick of being asked if I could be gay by ex-girlfriends, friends, and even my parents, I join a gay dating app to prove a point.
I don't expect to find what's always been missing. A real connection.
The problem is, I'm too scared to meet him in person. He's a hockey player, and I fear when he finds out my twin plays for the NHL, I'll be overshadowed by my overachieving brother. Again.
Worse yet, what happens if we meet and that connection isn't the same?
When I tell him I'm not ready, he's disappointed but supportive. Fate, on the other hand, isn't as accepting.
I had no idea the person I've been falling for is someone I already know.
La version française
Ce roman n'est pas encore traduit en français.
Mon avis
★★★ 3,5/5
Je me suis lancée dans cette série sans avoir réellement d'attentes concernant les différents tomes. Et je dois dire que même si ce ne sont pas les histoires les plus profondes, on se laisse prendre au jeu au point d'avoir du mal à lâcher les différents tomes.
Dans ce troisième tome, on assiste à une relation "épistolaire" moderne (via le chat d'une application gay). J'adore les romances épistolaires. Vraiment beaucoup beaucoup. J'en ai lu beaucoup et je suis assez difficile car j'aime vraiment les relations qui se construisent petit à petit. Ici, je dois dire que les discussions manquaient parfois de profondeur et l'aspect épistolaire est finalement assez minime dans l'histoire mais ce n'est pas forcément dérangeant. 
Je préfère le côté épistolaire quand les personnages ne se connaissent pas et avec un seul et unique POV (vous savez le fameux jeu d'essayer de trouver qui est le personnage avec qui le héros converse).
Je trouve que les auteurs ont pris un petit risque avec le personnage de Seth.
Il a une personnalité qu'on ne trouve pas souvent dans les romances, il est assez distant, parfois sarcastique. Il y avait un risque qu'on ne l'apprécie pas et pourtant, ses insécurités le rendent accessible ! J'ai appris la notion de "demi" dont j'ignorais totalement l'existence.
Quant à Cohen, on l'avait déjà bien vu dans les tomes précédents et j'avoue le trouver vraiment attachant. C'est le genre de personnes qu'on aime avoir comme ami ! Et c'est toujours appréciable de retrouver les personnages des tomes précédents (Beck est assez hilarant) et des tomes suivants (coucou Asher).
Et mentions spéciales à leurs noms combinés ensemble, on sait à qui cela fait référence :