Sommaire :
La version originale : Sky in the Deep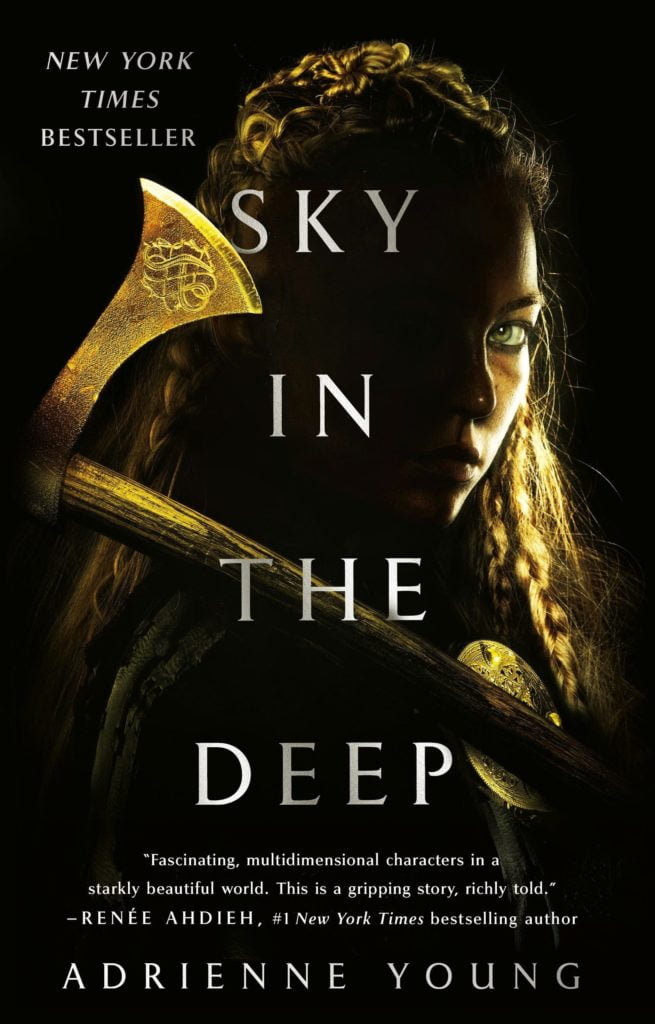 Raised to be a warrior, seventeen-year-old Eelyn fights alongside her Aska clansmen in an ancient rivalry against the Riki clan. Her life is brutal but simple: fight and survive. Until the day she sees the impossible on the battlefield—her brother, fighting with the enemy—the brother she watched die five years ago.
Faced with her brother's betrayal, she must survive the winter in the mountains with the Riki, in a village where every neighbor is an enemy, every battle scar possibly one she delivered. But when the Riki village is raided by a ruthless clan thought to be a legend, Eelyn is even more desperate to get back to her beloved family.
She is given no choice but to trust Fiske, her brother's friend, who sees her as a threat. They must do the impossible: unite the clans to fight together, or risk being slaughtered one by one. Driven by a love for her clan and her growing love for Fiske, Eelyn must confront her own definition of loyalty and family while daring to put her faith in the people she's spent her life hating.
La version française
A ma connaissance, ce roman n'est pas encore traduit en français.
Mon avis
★★★★ 4/5
Après avoir lu Fable, je me suis trouvée dans un état de « gueule de bois post j'ai fini un livre trop bien et je ne sais plus trop quoi faire de moi car je ne suis pas prête à quitter cet univers » (vous voyez ce que je veux dire ?)
J'ai donc recherché les autres livres écrits par cette auteur et je me suis lancée dans la lecture de Sky in the Deep.
Après les pirates, c'est maintenant l'heure des Vikings ! L'histoire nous emmène en pleine bataille aux côtés de Eelyn, une Aska, dont la vie est sauvée par son frère. Un frère parmi l'ennemi, les Riki, qui est supposé être mort 5 ans plus tôt. Elle se met alors en tête de le retrouver et est faite prisonnière d'un camp de Riki dans les montagnes en plein hiver. On suit donc son évolution au milieu des Riki et l'arrivée d'un ennemi commun aux Riki et aux Aska, qui ne leur laisse pas d'autres choix que de s'unir pour survivre.
L'écriture d'Adrienne Young est tout aussi captivante que pour Fable. Si vous lisez en anglais, j'ai trouvé Sky in the Deep plus facile à comprendre que Fable (en même temps c'est logique, le vocabulaire est moins spécifique).
Cette auteur arrive à créer des personnages attachants et bien construits. A la différence de Fable qui a été un énorme coup de coeur pour moi, je ne mettrais que 4/5 à Sky in The Deep et ce, pour deux raisons :
L'histoire d'amour : ce n'est pas un spoil, on sait qu'il y aura une romance à la lecture du synopsis. Pour moi, il n'y a pas assez d'interactions entre Eelyn et Fiske, ce qui donne un goût de « ils sont amoureux mais ils ont à peine échangé », mais encore une fois, c'est un bon livre, l'histoire est subtile, on n'évite la situation horrible du « je l'ai vu je suis tombée amoureux ». C'est juste que je trouve leur histoire un peu superficielle, mais c'est peut être une volonté de l'auteur pour montrer que ce n'est pas l'objectif premier de ce roman.
Le rythme : J'ai trouvé le livre un peu déséquilibré en terme de rythme. La majorité du livre se déroule dans le village des Riki alors qu'à la lecture du synopsis, on a vraiment l'impression que le point important sera la bataille contre l'ennemi commun, un élément conclu en moins de 50 pages. J'aurais préféré plus de pages pour avoir vraiment une alliance et une bataille plus immersives. C'est peut être trop « simple » à mes yeux.
Bref, je suis tatillon, c'est vraiment un bon livre et je pense le relire un jour mais voilà pourquoi je lui accorde que 4/5 et non un 5/5.
⚠️ Trigger Warning : une scène de torture incluant des yeux (je sais que pour beaucoup ça peut être une phobie)