Sommaire :
La version originale – Dearest Milton James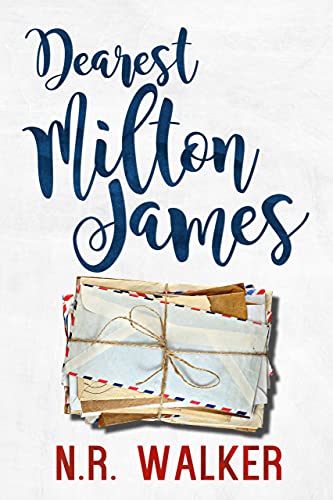 Malachi Keogh finds himself in a job he neither wanted nor asked for when his father, boss of Sydney's postal service, sends him to the end of the business line, aka The Dead Letter Office. Malachi expects tedious and boring but instead discovers a warehouse with a quirky bunch of misfit co-workers, including a stoic and nerdy boss, Julian Pollard.
Malachi's intrigued by Julian at first, and he soon learns there's more to the man than his boring clothes of beige, tan, and brown; a far cry from Malachi's hot pink, lilac, and electric blue. Where Julian is calm and ordered, Malachi is chaos personified, but despite their outward differences, there's an immediate chemistry between them that sends Malachi's head—and heart—into a spin.
To keep his father happy, Malachi needs to keep this job. He also needs to solve the mystery of the pile of old letters that sits in Julian's office and maybe get to the bottom of what makes Julian tick. Like everything that goes through the mail centre, only time will tell if Malachi has found his intended destination or if he'll find himself returned to sender.
La version française
Ce roman n'est pas (encore) disponible en français.
Mon avis
★★★★★ 5/5
Il arrive parfois qu'on commence un livre sans attente particulière et qu'on soit complètement happé dans notre lecture. Ce genre de belles surprises n'arrivent que très rarement et Dearest Milton James est incontestablement l'un de ces romans.
J'ai pris ce livre en pensant trouver une histoire sans prise de tête, une romance de Noël assez classique. Certes, j'avais vu que les notes sur Goodreads étaient très élevées, mais je ne m'attendais pas à me trouver aussi investie dans l'histoire et dans l'enquête de Malachi. Le début de l'histoire rappelle le film « Klaus » et je me suis demandée si les deux étaient liés mais l'histoire diffère une fois que Malachi prend ses marques dans le bureau de poste.
La particularité de ce roman ? On a deux histoires d'amour en une. D'une part, entre Malachi et Julian mais aussi entre Milton James et son correspondant (une relation épistolaire ❤️). N.R. Walker n'a pas son pareil pour raconter des moments de complicité. Ajoutez à cela des personnages secondaires haut en couleur et vous avez une romance des plus réussies ! C'est incontestablement l'un de mes romans préférés de N.R. Walker.
Dearest Malachi Keogh (Dearest Milton James #2)
Il existe un deuxième tome dans cette série, « Dearest Malachi Keogh », qui est une sorte de long épilogue à « Dearest Milton James ». Voici le résumé :
« Julian Pollard never believed in love at first sight. That was until he met Malachi Keogh. Well, maybe it wasn't love at first sight, but it sure was something.
Julian had forgotten how to live, how to be happy, and Malachi changed all that. Now together for four years, Julian wants to give Malachi a Christmas he'll never forget.
The only problem is, Christmas at a mail distribution centre is the busiest time of the year. It just might take the whole team to make it happen. »
Je ne lui ferai pas d'article dédié car il est très court mais on apprécie vraiment de retrouver toute l'équipe le temps de cette petite nouvelle.
En définitif, si vous ne devez lire qu'une seule M/M Romance de Noël, je ne peux que vous recommander cette duologie ! C'est une petite bulle de bonheur parfaite pour les longues soirées d'hiver ❤️